State Center Police Department
"Committed to Excellence"
It is the mission of this department to improve the quality of life of our citizens and the guests to our city by our integrity, vision and performance as it relates to the issues of safety and well being of our community. This specifically is the protection of each persons' constitutional right and privilege as a matter of peaceful and productive living within the city of State Center.
It is the department's innovative leadership that will facilitate and be held accountable for the role of crime prevention and suppression in the interest of good public order using all available resources at the departments' disposal. As crime is a social issue impacting all aspects of our community, it is imperative that as a public service department, the department with the community address the issues that impact both the individual and the common wealth of State Center as related to safety in the interest of good public order.
As the department serves this community, this department is accountable to the community for it's quality of service. This department will be committed to the highest standards of ethical conduct, integrity, and professionalism in all it's endeavors.
---
Information
We appreciate the citizens of State Center being involved with reporting suspicious activity or crimes in progress to the Police Department. We rely on community involvement to assist us on being the "eyes and ears" for the community.
Please feel free to contact our office with any question, concerns or comments. Our email address is scpd@partnercom.net
We provide extra patrol and residence checks for citizens who are going to be on vacation or away from home for an extended period of time. If you would like us to check your residence please stop by the Police Department or City Hall and fill out a vacation check form.
The State Center Police department is currently looking for qualified men and women to fill vacant Reserve Officer positions. If you are interested in serving our community as a Volunteer Reserve officer, Contact Sgt. Dan Quigley at the above email address.
---
Police Department History
State Center's Police Department was established in 1867. The first police officers were known as Town Marshall / Night Watchmen. These individuals typically handled several jobs throughout the city government.
Some of the Night Watchmen/Town Marshall's are as follows from approximately 1867-1948:
W.H KNEPPER, A.R CHAMBERLIN, E.M. COWAN, S. CHILTON, JOHN GREY, JAMES F. COWAN, F. AHRENS, E.G. HOPPES, R.S. POWERS,C.B. NASON
State Center Police Officers and Reserve Officers Chiefs
Chief O.A. Sweet 1948-1952
Chief Bernard Malloy 1952-1954, 1960-1977
Chief Clerence Duffy 1954-1960
Chief Max Streeter 1976-1986
Chief Richard Frickie – 1977-1978
Chief Glen Mast – 1986-1989
Chief Steven Sodders – 1989-1990
Chief Jake Osgood – 1990-1998
Chief Jeff Bunn – 1998-2019
Chief Jon Thomas – 2019 – Present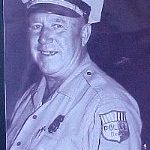 Officers
Frank Mulcahy – 1966-1968
Buryl Lemon – 1968-1978
Rich Watkins – 1968-1970
Robert Bane – 1977-1977
Don Shapely – 1977-1977
Phillip Adrion – 1978-1978
Donald Oxley – 1979-1983
Tom Cross – 1980-1984
Richard Davis – 1980-1980
William Skare – 1984-1984
Doug Swenson – 1984-1985
Rodney Drummer – 1993-1998
Paul Kuhlman – 1994-1996
Doug Winders – 1997-1998
Louis Modlin – 1997- 2008 (seasonal)
Ted Paxton – 1998 – 2008 (seasonal)
Mike Ball – 1998-1998
Nate Taylor – 2006-2007
J. Hunter – 2007-2008
N.Spurlock – 2008 – 2014
R. Price – 2010 – 2011
D. Quigley 2011-Present
G. Goode 2011-Present